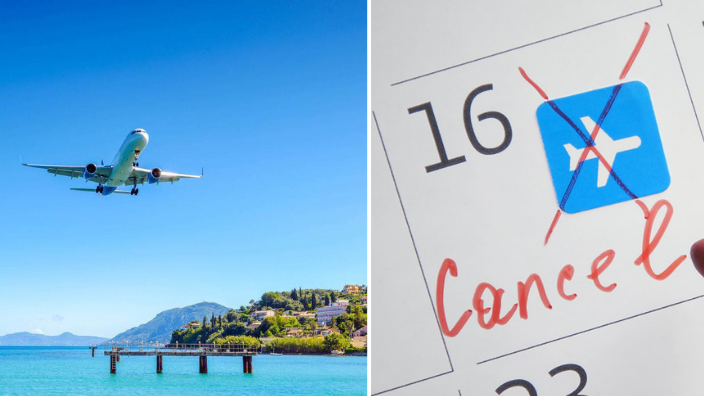 What would be a nine-week vacation in Europe for the Melbourne-based Kalamaris family in July 2020, resulted in countless hours spent online on flight and accommodation cancellations, new bookings and requests for refund.
"I organized a family trip to Europe. To Italy, France, Greece and the Greek Islands. I had booked flights with several airlines, accommodation and car rentals and then COVID hit.
"It took me many months and a long time to get reimbursed and booked because my travel insurance policy didn't cover the pandemic and that's something I had to deal with as well. "
After negotiations, Mr Kalamaris says he has received refunds or vouchers for most of the international and domestic flights and accommodation he has booked, but claims there are still airlines in Greece that charge hundreds. dollars regardless of their circumstances.
"When I explained that I could not leave Australia, most of the operators, including two Greeks, provided me with vouchers with a duration of 18 months from the date of issue. In the event that I am unable to redeem the vouchers, I will receive a full refund plus an additional 10%. "
However, the Greek Australian's experience was not the same with other airlines.
"With Sky Express, I booked two flights from Corfu to Athens and from Zakynthos to Athens. I paid once to change one of the flights last year, but now that I am requesting a full refund for flights that are due later in July, I am called upon to pay a total of 380 euros for two flights , which equals $ 600. "
In emails seen by The Greek Herald the operator says their routes are working as usual and because they weren't canceled by them, they "can refund or rebook your tickets according to the fare rules for your tickets."
Mr Kalamaris says he knew there was a cancellation fee in the ticket terms and conditions, but wonders why it is fair for consumers to pay "regular cancellation fees since they do not have to pay a" regular cancellation fee. other choice ".
"Those were the terms and conditions, but this situation is beyond our control. I cannot continue to pay fees for flights in the future when we have no idea if and when we can use them, "he said, calling on the company to rethink its policies for Australian travelers.
Due to the COVID-19 pandemic, Australians cannot leave the country unless they get an exemption. Australian citizens can apply for an exemption to leave the country for a number of reasons, including humanitarian or compelling reasons and urgent or unavoidable personal matters.
Last week it was announced that Australia would temporarily cut its reception of international passengers by 50% amid concerns over the highly transmissible Delta variant, while nearly 34,000 Australians are still waiting to return home from overseas. .
Sky Express has been contacted for comment but has not responded.